rodathome:
I had this very problem at work where I'm using Windows 7 Enterprise Edition. This was very helpful and now I've got IIS 7.5 running.
Originally posted on The Voice® of Srijon: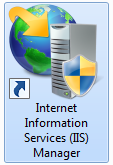 If you want to install Microsoft Internet Information Server (IIS 7) on your new Windows 7 computer first time after working with IIS 6 for long years, I believe you will be surprised with the improvements and changes both in IIS and IIS installation process.
First of all Microsoft has renamed the IIS as Internet Information Services and is not now using Internet Information Server for IIS.
In this short guide I will summarize the steps of installing IIS 7 on Windows 7 in the way I had recently on my Windows 7 Ultimate Edition PC. I'm using this pc as a home pc but I work on my web projects at home so I run SQL Server 2008 R2 as well as IIS and host ASP.NET applications.
So if you want to install Internet Information Services (IIS 7) for a developer computer then you can follow me by reading…
View original 680 more words